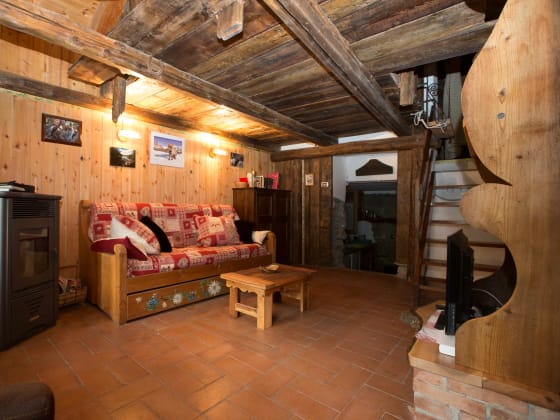 Rustic cottage in the beautiful Val Ferret, at the foot of Mont Blanc: for the true lovers of nature
The Cottage is placed near the forest, at the foot of the Grandes Jorasses
Privileged position compared to the Valley, splendid view
Surrounded by a tiny Alpin village and nature all around
Microwave – Kettle – Gas cooker – Dining table – Various pots and pans – Fridge – Freezer – Wooden stove
Loft bedroom with double bed – Loft area with futon for 1 and a half square – Sofa bed with 2 single beds (in the livingroom)
Shower – Washing machine – Hairdyer – Lavabo – Bidet – Wc
Flat Tv – DVD's reader  –  Decoder sky – Sofa
Independent heating – pellet (supplied) – Electric heater for hot water
parking spot on the road (30 metres from the house)
the Chalet is on 3 floors, NO elevator
Outdoor table with chairs – Longchairs -Barbecue
100 mt of from the country road (easily done with nbormal car)
Check Rates and Book your Stay
Check the total price by filling the desired dates and the number of guests
For further INFO do not hesitate to contact me at:  e-mail: chaverce86@hotmail.it  –  tel: +39 329 6419666
The cottage is located in the center of Val Ferret (Ferret Valley), 50 meters above the main road, just enough to isolate the house from the crush of the valley and passing tourists. The village is called Pra Sec Dessus and is located at 1,650 meters above the sea level. The southern exposure offers however long sunny days and warm temperatures that permit the growth of aromatic plants in the garden. The cottage is placed on the edge of the larch forest, rich in wildlife and, in season, mushrooms and blueberries. Just 50 meters below the cottage there is bar / restaurant.
IMPORTANT: YOU ARE IN THE HIGH MOUNTAIN
To spend holidays in a cottage located at the foot of Mont Blanc, in a wild and practically unspoiled Valley, is for sure unique choice, but for the real lovers of nature.
Encounters with animals are very common: coming back in the evening you can meet foxes and badgers while  getting up early in the morning you may encounter deer, roe deer and chamois (therefore we would suggest you to drive slowly!). You may as well meet very often mice, dormice, bats, frogs and snakes, maybe less cute animals, but that should be respected and left to live… The hot rocks exposed to the sun are very attractive for reptiles as well as snakes that if left alone are absolutely harmless. In case you bring children or dogs it would be good to prevent them from sneaking around… After all, if you respect all these animals, they for sure will respect you.